Time For Some Culture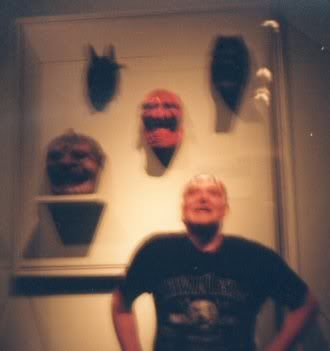 In an effort to make the whole trip a little educational we happened to travel to many museums throughout our trip. As you can see above, we treated these educational opportunities with the reverence and focus we typically treated anything. This fine piece for art was found at the
Glenbow Museum
across the road from the
Calgary Tower
. This was the first of many stops. It was fun and potentially informative, but we kind of squandered that opportunity. What I did take away from it was the fact that it is probably the best place to go for a first look at how and why the west came together the way it did. Maybe I'll get back to check it out one day.
After wasting that fine educational opportunity we moved on to the biggest draw in the middle of nowhere at all. Drumheller is the home to the
Dinosaur Provincial Park
and the
Royal Tyrrell Museum
. The museum is pretty slick if you like dinosaurs and fossils, if not then I recommend you stay in Calgary. We had a blast running around here like we were 8 year olds off their Ritalin. The real fun was wandering the badlands in the park though. Maybe we just enjoyed saying
hoodoo
a lot.
I have to say it was pretty cool driving into the badlands. It's like taking a wrong turn into hell, I can imagine how hot it gets in the summer since it looks scorched in the fall. We, of course, enjoyed giving the teachers coronaries by climbing many things no sane person should. Our group didn't get the chance to participate in a dig but I'll be honest with you, the thought of us playing with anything that old is just scary. Nothing good could come of the likes of us handling bones older than some of our teachers. I think some of the best reactions from them looked like
this one.
Having been to a museum rich environment and also enjoying things like the philharmonic and other events I can honestly say;
The only culture my merry band of nuts is fit to be around comes in
a cup,
usually with fruit on the bottom.