What do you think?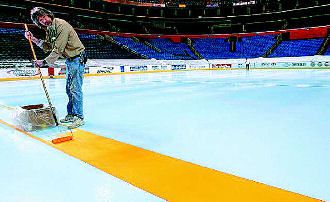 The game is off and the two sides are talking and there are changes being made to make things better. I'm not actually talking about the hockey strike here, but rather the changes that may yet come.
The Buffalo Sabres had been thinking about alternatives to white ice to improve the look of the game on high-definition television. Apparently HDTV viewers can have problems with the white ice because of glare. Another reason I'm glad to be poor and own my curby, nasty NDTV (No Definition TV).
Their answer? They came up with a new paint scheme for the rink involving blue ice and orange lines. Under the new colour scheme, the blueline, the goal line and faceoff circles have all been dyed orange, while the centre red line is now a darker shade of blue. This is a little creepy for a lot of us as we remember the days of Fox and the red and blue streaks.
The Sabres will test a new look for ice during Sunday's American Hockey League game between their minor-league affiliate, the Rochester Americans, and the visiting Cleveland Barons. For the game, which will be played at Buffalo's HSBC Arena, the Sabres have tinted the ice a light blue.

I have a remarkable idea on how to make the game more fan friendly but I'm sure the NHL wouldn't care. I figure lower ticket prices may actually bring some fans into the buildings. That or have easy credit financing applications available at the ticket windows. If I can buy a couch and not have to pay for 18 months then I should be able to make other big ticket purchases in the same vein.
If they did that then people could actually afford the HDTV's they are so worried about us having to suffer through the glare on. Then we could all benefit from the changes and be impressed with the newlook of the game.
Hey Gary? Could spare a screen for a man who's down on his luck?