Fatigue And The Force
Well I survived
the show and the lineup and it was worth it! Episode III rocks! There were people lined up all the way around the building when I arrived. I grabbed a bag of M&M's only to find that the colours in the
Jedi Mix
are far less exciting than the
Darth Mix
. Camera in hand, I plied the lineup to see what the crowd had to offer.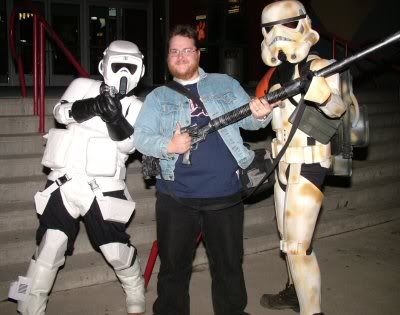 I was quickly accosted
by a pair of stormtroopers who seemed very interested in my reasons for visiting. After using my force powers to convince them that my droids aren't the ones they were looking for I managed to befriend them and discover that their costumes were handmade with extensive reference from the movies and the
Smithsonian traveling exhibit
.
There were a large number
of people from all generations and walks of life in the fray and they were all amped an ready to go.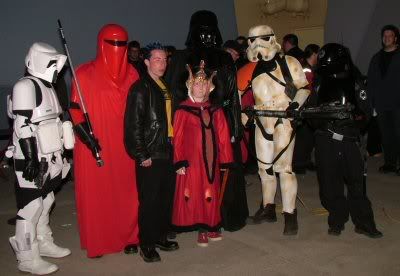 Without slaughtering the plot for those who actually have lives, or the need for sleep last night, and will go see the movie in the coming weeks I can tell you the movie was all I hoped it would be. No more fluff and dreck like the first ones. This one had all the dogfighting, swashbuckling and darkness that I was erroneously seeking from the first two. Strap yourself in, if you get one of those monster sodas from the concession install your catheter, and enjoy the ride. It was two and a half hours of pure fun. Just make sure you go to bed afterwards, I omitted this step and it isn't for the faint of heart.
The sooner you see it the more likely you'll get a theater of rowdy fans. We apparently had a wookie sitting somewhere behind us as I kept hearing his distinctive growl. I'll have to see if this is a standard attendance item as I will be going at least once this weekend to see it again.