Arrogance is Bliss
So I'm surfing the web
one day and discover that one of my all time favourite bands is going to be performing in my city. After sending the wife to get tickets I got myself ready for the show only to get there and get actively mocked by the band!!!
Ladies and gentlemen
if you haven't experienced a full out comedy folk band you are missing out on a good time.
The Arrogant Worms
are actually 3 really nice guys who wouldn't laugh at a person like me, unless if was funny, or during the show, or seemed like a good idea at the time. Oh wait, I guess they would, and it would be funny as hell. For those unfamiliar with this ragtag bunch of invertebrates, they crawled from the dirt at Queens University in 1990 and by 1991 had already been on the CBC. While this is a bit on a non-accomplishment in the global sense, it is a grand accomplishment for a few college guys out to have a laugh.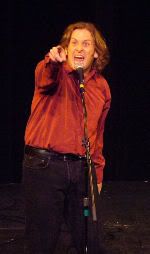 After being assaulted
by squadrons of loyal fans, like robins seeking the bands' invertebrate namesakes, they released their first album in '92. Having spent most of their imagination on the album content they decided to call the album "Arrogant Worms". Their empire of dirt has grown to encompass 10 albums and a DVD filled with symphonic chaos. Their pro-Canada bent has grown them a steady legion of fans to the point that one poor unfortunate soul used their material during his audition on Canadian Idol. As the band members so blatantly stated during the show
"We still can't believe that someone thought they could get further than we did with our own music, but good luck to you!"

The show is interactive and the guys are unflappable (or maybe the show wasn't supposed to be interactive and they hated us). Overloaded with energy and a blatant disregard for acceptable behaviour, they saunter up the stage and burst forth in short explosions of song that leave you exhausted from laughter, leaving barely enough time before they're at you again.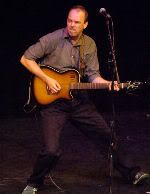 Their show in Hamilton was a blast, despite the fact that the guys kept warning us about their 6 week absence from performance. The guys were admittedly nervous since Mike McCormick was a local boy and the audience was packed with frenzied fans and family members. Who likes the possibility of screwing up on stage with their Dad watching (Dad probably still wishes Mike had become a drive through attendant instead of an "artist"). While being taunted by fans for the removal of Trevor's shirt they simply stated that the fans that wanted that to happen would have to square off in the mud pit that would be brought in later. Mike McCormick wowed the crowed while singing about a recent injury and Chris Patterson showed disturbing addiction to Blossom. Even Trevor seemed unaffected by the constant request for an absence of shirt. One almost feared the moment the mud would arrive as that would have revealed his pasty torso to the world.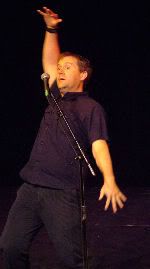 Don't worry guys, you were as funny as you thought you were. Try not to get lost and buy lots of copies of the maps. I'll wait until the new year for your new disc and race to purchase it with my usual disregard for public safety along the way.
To see just how animated these guys can be check out the rest of the concert pics.