Festivities and Fireworks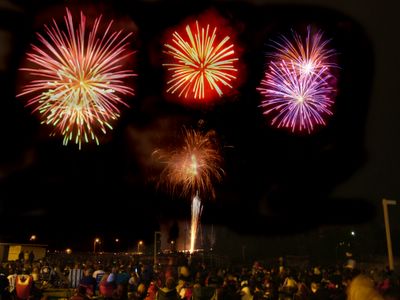 With the recent passing of the Victoria Day holiday here in Canada comes the inevitable fireworks display. I am always fascinated by fireworks and watching the display hearkened me back to days of old. Fireworks and teenagers rarely mix well, and we were no exception.

Back in our younger days we were enjoying the holiday fireworks in the best way we knew how. We decided to play pyrotechnic tag. Fire a round at your buddies and see if you could get them. This seemed hilarious and extremely entertaining at the time but I can tell you now from experience that watching a round smoke through a friend's pant puts a serious damper on your celebrations.

You would think this would put us off of fireworks, or at the very least their misuse possibly for the rest of our lives, but not my ragtag bunch of misfits. No sir!

The following year, while working of at a friend's family business we were delighted to open the mail one day to find an order form for fireworks. Now I'm not saying that we were misrepresenting ourselves as we were the end users the literature kept referring to, but we went ahead and placed an order for a retail starter pack that included a serious amount of firepower. We pretty much blew most of what we had made in the beginning of the summer but we were armed and dangerous in a way nobody we had met before had ever been.

We began the festivities by challenging each other to fire off roman candles over the lake by hand. This proved to be a source of no real excitement so we began stunt shots. Target practice began and eventually the festivities descended from there. We soon tired of pop cans and the other targets and we launched a few candles off down a drainage culvert because it looked really cool when they spiraled off down the pipe. We also made the grievous error of wondering what a concussion shell would be like inside said culvert, our curiosity was soon satisfied and I don't think I hear right to this day. Just to mix things up we decided that a pinwheel would look really cool in the middle of the road. To keep it from taking off into a neighboring field we nailed it to the road surface and let 'er rip. The results were fantastic, but the guy who turned the corner in his car thought they were just alarming so he turned around and went the other way. Coward.

The night began to wind down and the impossible happened, we were actually getting bored, but luckily this happened as we were running low on ammo. For our finale we started plinking shots off of the stop sign at the intersection. What was really cool was how the shots blew into a bunch of little pieces and reflected in the sign. Almost beautiful. What happened next was a thing of astonishment to us. The final shot in the candle fired straight and true, but instead of bursting into a hundred dots of brilliant light it welded itself into the plastic on the sign. It continued to burn for a few seconds and when it finally extinguished itself it had melted almost halfway through the metal.

Suddenly I realized how close my buddy came to walking with a serious limp for the rest of his days. Sadly I still love fireworks but now I point them at the sky or when nobody is looking, at the occasional stop sign. Well, unless we've been drinking.
Vive la revolution!