Here we go again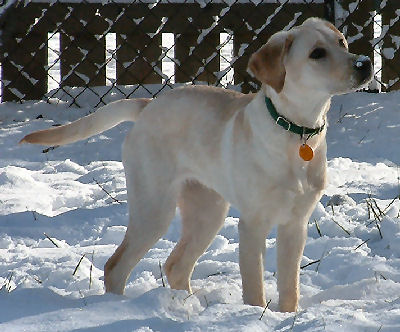 How many of you have a pet?
We are the owners
of a Yellow Lab that we love to bits despite the fact that she's stark raving mad. What she lacks in sense she more than makes up for in exuberance. For those unfamiliar with a yellow lab you take 2 parts detachable hair, 1 parts flailing lumber type tail, 2 parts tongue, one part appetite and 3 parts heart and mix well.
These dogs
are fantastic with the kids and love to romp and play (No matter what the hour of the day). The only problem is that they are so likeable you can't
not
take care of them. Our family line has an affinity for getting the one faulty item in any batch. If we choose, at random, one item out of a pile of 2,000 mass produced products in which one is faulty, we'll get it. If there's a burger with a bit of gristle or bone in it, we'll find it.
Not to be outdone
, fate made certain that we got te one dog in the litter that is broken as well. Last year we had a mad dash to the vet after she became really ill with a case of
pancreatitis
which ended up costing a bundle. This year we have allergies to deal with. At 2 and 1/2 years of age she has now decided that she likes to break out in random rashes and ear infections in reaction to some unknown elements. As such we are now waiting for an appointment with a canine allergy specialist. And I thought our medical system was busy. Animal specialists are now backlogged as well.
Our luck
is that she is allergic to air, or possibly humans. That would be our luck. At least while driving me insane she is actually lovable and a really good dog, otherwise I would have to test for her allergic resistance to some other place to live. Ah well. Everybody needs a hobby right?