When Humour and Musical Talent Collide ........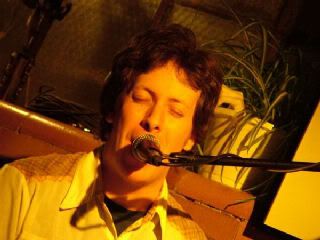 You can
end up with some seriously entertaining results! Recently on an outing with fellow bloggers (Q: Dear god - you guys travel in packs?! A: Yes we do. Be afraid, be very afraid) we made a point of heading to a show by a
guy with the best sound I've heard in a long, long time
. Ladies and gentlemen, I introduce to you
Mike Evin
. I'm sure this assessment of talent means nothing to most as I am by no means a music critic or even a competent industry body. This question of his talent, however, is better answered by the fact that the Creeggan brothers of past BNL fame saw fit to take him in and produce his new album.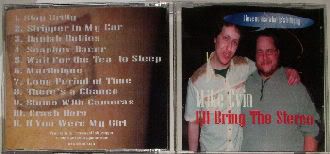 Luckily for them, the cover art is handled by someone better than I (as I cobbled this together for the advance copy I bought at the show) and will look much better than you see above when the final product is available. Yes I will keep you posted as I learn more.
The music is another story altogether. The CD contains work that is very much not in progress. The sound is varied from so many different musical styles that any attempt to categorize the sound is simply a generalization by category crazed nuts. You know the type, everything has to fit neatly in it's own little place. This album will defy that is a way that will make it's constant falling off the shelf a delight. This type of eclectic blend is enough to kill many albums but Mike has the talent to bring it all together in a way that I never would have thought possible.
From the haunting opening vocals of "Stay Gritty" in to the final melodic refrains of "If You Were My Girl" we are taken on a journey that takes us on an emotional and psychological journey. Like driving with your parents when your were a kid where Dad wouldn't stop for directions, your mind will end up traveling to places you would never expect while enjoying the scenery on the way.
The album is steeped in talented accompaniment as well. Supporters on this album include Tyler Stewart and Kevin Hearn (Barenaked Ladies), Kurt Swinghammer (Ani DiFranco, Sarah Slean), Gary Breit (Bryan Adams), David Matheson (Moxy Fruvous), Rob Carli (Toronto Symphony Orchestra). Talk about talent! These artists are glad to help Mike get a shot at the big time and this is the album to do it. All this is delivered with Mike's signature sense of humour and his character is stamped all over it.
Whether you've wondered about a career in racing, the best way to approach potential lovers or the intricacies of international bullying, Mike's your guy. I'm glad he has not hit it big yet only because I got to experience him in a small and intimate setting where you could talk and interact with him directly. That said, I have no idea why he hasn't been scooped up by the industry yet. His music is fantastic and serious while still being fun.

Check his site out when you get a chance and give his tunes a listen. Even drop him a line to find out where you can see his show. He's got great pics and a cool detailing of the album and it's creation, right down to where to eat when producing albums at Jim's house..
If you get a chance to see him before his shows cost $65.00 a pop you should do so. If you're feeling brave tell him I recommended you. He drags that piano with him everywhere so he could really do some harm if he tried.